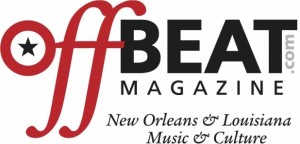 TO KATRINA: WITHOUT WHOM WE WOULD NOT BE HERE RIGHT NOW
Aug 28, 2013
Offbeat Magazine
We asked one of our favorite musicians and songwriters, Paul Sanchez, to offer some thoughts on the events that happened this very week in 2005. He came up with a moving and heartfelt piece that says a lot about the difficult process of healing and the resilience of this city. Everyone who loves New Orleans is invited to join us in some reflections and a toast. Enjoy…
It has been eight years since Katrina, when the levees broke and New Orleans flooded. I'm not comfortable using the word anniversary with the flood– anniversary seems like it's something we should celebrate, and no one I know wants to celebrate Katrina.
My friend Freddie Blue was preparing for his radio show on WWOZ last week and asked which Susan Cowsill song I might like to hear. I asked for "Just Believe It," which is a very hopeful song that meant a lot to me after the flood. The fact that August 29th was a week away wasn't on my mind or making me sad I just happened to remember how much I loved that song and its message of hope. We were texting and Freddie's immediate response was, "I don't really want to be sad about the Anniversary." But I was struck by how quickly he had responded and I noticed that he had capitalized the word "Anniversary" implying the very depth of sadness he did not want to acknowledge. He went on to say that he was having dinner with friends the night before and someone at the table toasted her: "'To that bitch Katrina without which we would not be here right now.'" Their pain seemed evident by the strength of the defiance in the toast.
Freddie is a lovely fellow and has much to be grateful for in his life since the flood. He is Production and Facilities Manager for The Ellis Marsalis Center for Music which came to be because of the flood. He gets to work with artists whose music he loves and whose lives inspire him. He gets to work with kids, helping them learn about music and it thrills him because Freddie loves kids, sees the hope music offers them for a better tomorrow. He likes being a part of that hope.
I knew they were right to be defiant and I was surprised by my reaction to his text because the words, "toasting her" stung, making me think of the flood as a person and I didn't want to feel any empathy like I would for a person. I found the toast itself stung as well, I was surprised but it did because they seemed to have found a strength in that defiance that I haven't found yet, even eight years later.
Eventually I realized it stung because I hadn't thought about the flood or those days in a while, I had allowed myself to forget and that was what stung the most. I agree with Freddie, I don't want to be down about "anniversary. The years since have presented me with much to be grateful for along with new challenges to face that have required every bit of strength inside of me. I don't have time to live in the kind of sadness those days required.
There was a time when I believed that I would never know a pain so deep again but I had simply forgotten that life keeps coming and one needs to stay hopeful.Hope is such an important thing in life, my wife Shelly reminds me of this when I forget and I learned in those days to be hopeful in the face of despair, it's probably one of the most valuable lessons I have ever learned.
When the flood happened it felt like there would never be a turning point in life so dramatic and defining for us or the country again. As the years passed and the anniversary of the flood came we knew how to process the moment, giving in to sadness seemed appropriate. We knew were still in the hearts of people from all over the country and all over the world. Things are different this year for us in New Orleans and for folks around the country.
The pain seems more distant and it is not just the years. Katrina and the flood have been placed at a point in history for us and for the rest of the country. The moment in time that seemed which was so devastating and interminable is now history and in a sense we are part of history. Our pain and loss placed in a frame of reference, for our sake and by time itself. No longer expected to be the face of loss we have become the face of tomorrow. Forbes Magazine listed New Orleans as number one on its list of fastest growing cities for new business in America. New Orleans is filled with new people, new life, new energy and a sense that great things are ahead.
Other parts of the country have now felt the devastation of storms with Hurricane Sandy, other parts of Louisiana have dealt with Hurricane Isacc. What we knew as loss is personal to them now and Katrina is a news clip because they are dealing with their own need to rebuild and renew. The flood taught me to respect the intimacy of someone else's pain and give them space to be humbled by life so I don't compare their pain to ours, I don't say "Katrina was worse." I don't rate their pain against mine. I hold them in my heart and wish them deliverance.
John Boutte, who is one of the most brilliant singers in this or any city, is a friend of mine, I know his family and love them. His oldest sister Lolet had lived in Houston for a few years after the flood. When she moved back a couple of years ago I saw her at John's house and said that it was nice to meet her. She looked at me surprised with a raised eyebrow and said, "Baby you know me!" I said I was sorry but I didn't think we had met before. She looked at me more intensely and a Boutte intensity can burn right through you, she said, "Baby you know me, you've been to my house and sat on my porch. You've eaten my cooking and had coffee in my kitchen". She was right, it all came back to me and I was shocked to silence. I had so worked so hard to forget the flood that I had erased memories of life before the flood. I apologized and walked away stunned with my ability to forget in order to endure, to deny the worst of what was and in order to embrace the best of what is.
I think that's what Freddie and his friends were doing with their toast, making a choice to deny in order to endure, we have to I think. I'll end with a look back, not at the flood but the fourth anniversary of Katrina when I wrote these words:
"I remember the next morning, my wife waking me to say that it was bad and me saying no it missed us and her shoving me awake saying over and over, "no, it's bad, wake up, it's really bad." Coming awake I saw a sight which shocked me to silence and tears. The memory of it still does. I saw New Orleans, the city I was born and raised in, only I didn't recognize it. I struggled to focus on this underwater nightmare of loss and desperation as my hometown.
We lost our home, our possessions, our jobs, friends, sense of community, futures we'd planned and pasts we'd made ritual
Ultimately what we lost is the same thing many around the world had lost before us and many more have lost since. We lost our illusions, the illusion that we had control over levees, politics, human nature, our careers, our futures, our past.
I wish we could have an anniversary for the week before Katrina, to celebrate and remember what "normal" life was like. To remember that had the storm not hit I was about to come home from three weeks of recording in Atlanta. I would have bitched about how high my lawn was and then I would have cut it in the August heat, in the evening because the grass is too soaked with dew in the morning. Shelly and I would have been going to our friend's Rick and Rob's house for a swim, we'd be at the gym twice a day because it would have been late August, hot, and the gym was air conditioned so a good place to spend time.
I would have gone down to St. Bernard Parish to finish my record Between Friends at Mike Mayeux's studio Ground Floor Productions in Mereaux, going through his files for phone numbers and calling whatever musicians were in town who would give us a smile and there were so many back then.
I would have been going home to our house. Shelly had just finished six months and thirty thousand dollars of renovations. She did the demolition herself alone while I was in the studio, enlisting her best friend Christy to help drag out the heavy stuff. Shelly dealt with the contractors, (manly men who didn't know what to make of being told what to do by a woman), she made the choices while I was in the studio making music. After the flood, in an interview, she was asked what she was most proud of in life and she answered, "renovating my own home". What the interviewer didn't know but I did was that she finished the renovations the day we left for Atlanta to record and we never got to live in our finished house.
The stories of what I lost and found since then are many and are a part of my life for the rest of my life, I accept that now.
Last night I watched a television show on WYES, the public station in New Orleans. It was an old documentary on the "worst hurricane to ever hit Louisiana. I watched an old man being interviewed, perhaps eighty-five or older. He told of being a small boy, seeing the waters rise, hearing the children crying out to their parents as they held on to each other knowing they had lost a son or a daughter, the cries of wives losing husbands and husbands losing everything they loved and had worked to protect. This beautiful old Cajun man wept and stopped a few times to compose himself. He apologized and said, "you got to forgive me, talking about it's still hard." It had been seventy years but he still wept at the memory."
We won't ever really forget but we have endured and that is worth noting, worth celebrating.
Yes, my friend Freddie was right to say he didn't want to be sad about it, his friend made a good toast.
"To that bitch Katrina without which we would not be here right now."
Peace & love,
Paul Sanchez