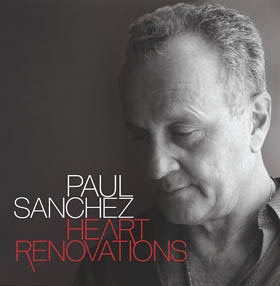 Award-Winning New Orleans Musician Paul Sanchez Releases 14th Album, Heart Renovations
Jul 31, 2016
Lauren Itzkowitz
paulsanchezpr at gmail.com
New Orleans, La. (July 31, 2016) -- Native New Orleanian Paul Sanchez, a noted musician, songwriter,
singer, producer, writer, and actor announces the release of his 14th album, Heart Renovations, a sequel to
Sanchez's critically acclaimed first solo album, Jet Black and Jealous, which was released in 1992.
Recorded in New Orleans, Heart Renovations, features 20 new original songs and is available at Louisiana Music Factory, CD Baby, iTunes and Amazon.
Paul Sanchez's award-winning music transforms audiences with his unique blend of music and storytelling – at once powerful, sad, humorous, entertaining, and hopeful. Heart...