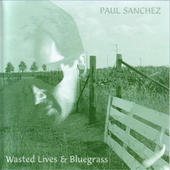 Wasted Lives and Bluegrass, Paul Sanchez.
Prescription to cure those follow-up blues
Aug 7, 1994
The News Star
Like Jet Black and Jealous, this record is an airy affair, done mostly solo on guitar. He ruminates on life and love, pain and passion. There's a lot of cigarette smoking and coffee drinking.
Yet, as with the previous LP, Sanchez just doesn't have a torrid album to offer.
This simple placidity of "Still in Love" and "I Dreamt" is his greatest strength. He's no folk protest singer in the mode of Seeger, Guthrie or Dylan; he's a lover not a fighter.
Strictly speaking, Sanchez has a voice that's a little too sweet for rock music too. It's almost Tim Pan Alley in its unforced naivity; almost showy in its easy world-weariness.
What Sanchez does to cure that on "Wasted Lives and Bluegrass" is bring in a harp player named John Herbert, which gives the proceedings a stern, honky tonk...